I have tried a few different software for writers and let me tell you some are great and some, well I want to pull my F***ing hair out by the end of it...how about you?
I tried Scrivener and while I am sure it's great, it really was not for me. I dislike it, greatly.
I can't say that I have very much to say about it, well at least not positively any way, I know there are some die hard fans of the software but for me, I felt I was spending too much time trying to navigate and work out how to use it that by the end of it I was exhausted and got nothing done.
So...now that that's out of the way...
Have you tried QuollWriter? I used this for quite some time, I found it straight forward although it's great if you write, chapter by chapter as I felt writing scene by scene was a little odd.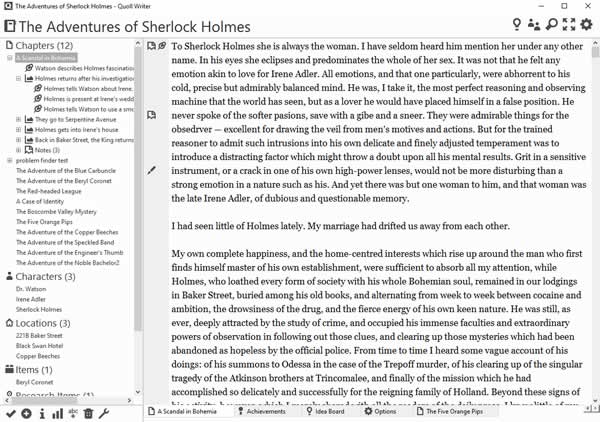 This is totally open source so it is great for those on a budget or no budget, it's straight forward, allows you to add characters and locations. There's an idea board, it's really great to use.
QuollWriters best feature would be an integrated Thesaurus, simply highlight a word, right click and a popup will appear with alternatives to each word.
Also it will check your work for not only spelling mistakes but if you have too many commas, if your sentences are too long even if you are using passive voice which is pretty awesome.
I don't use it very much anymore but it really is a great program to use.
So. What do I use to write with?
A program by the name of Bibisco they have a Free Version which is Community Edition and a paid version: Supporters Edition, I downloaded the Community Edition but decided to go ahead and purchase the Supporters edition at a very reasonable price.
Has a wonderful overview where you can see where you currently are at as far as your goals are, how many words you have written and how many you need to write per day to reach that goal at the date set out.
One thing I love is you can create a new project based off the characters and locations of another project which is great if you are planning on a series and use characters that cross over into other books.
Hands down, Bibisco looks better than to other and is easy to use with tips all the way through, their spell check is not the best and there is no thesaurus or a way to find issues with passive voice or too many punctuation etc like Quoll Writer but it is an excellent program I currently use.
This wasn't a very in depth post but maybe down the track I might have the time to go a little further. In conclusion the free software like QuollWriter and Bibisco are far better than the expensive Scrivener (which I am glad I only got as far as a trial)